The emergence of web series has opened a whole new world of diverse and indulging content to the audience. As digital entertainment became more popular worldwide,filmmakers and media companies took this freedom to introduce their pet projects on the digital platform. With popular digital platforms such as Viu, Prime, Netflix, and Hotstarfocusing on original regional content, it seems like the horror buffs are in for some interesting andnerve-wracking shows.
NishirDaak
NishirDaaklaunched on 3 December 2018 on Colors Bangla and Voot. The show has caught the instant attention of Bangla audience with its engaging story and eerie dark magic. Starring Tumpa Ghosh,Soumyo Banerjee,andSairity Banerjee,the show follows the journey of five-year-old Tara.
Tara's life is in danger as a tantriktries to sacrifice her to gain immortality. He creates Nishi, who can captivate anyone with her beauty and black magic. Tantrik plans to attack Tara with Nishi's help. But Tara's mother is ready to fight the demons to save her daughter. Will she succeed? Can she defeat NishirDaak – the call of the dark? Watch NishirDaak horror web series on Voot.
GupthaRahasyam
GupthaRahasyam web series a Telugu horror show online has caught the nerves of horror fans with its chilling entry. Unlike the other horror shows, the series takes us down to eerie path right from the first episode. The show follows the journey of Reyna trying to go back to pursuing her career after taking a break.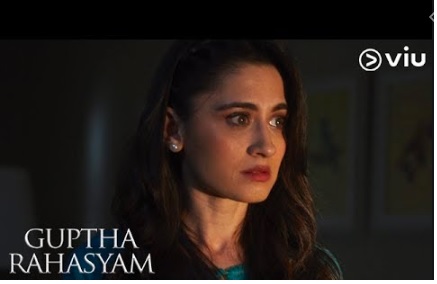 However, the supernatural powers and dark forces torment and challenge her. She finds a sense of comfort in her neighbor Sahil at the same time can't overlook the mysterious aura around him. Is Reyna being tormented by the dark forces? Is Sahil responsible for the mysterious events happening around her? Or is it all just an aftermath of her trauma? Watch Telugu horror web series GupthaRahasyam on Viu.
Ghoul
Radhika Apte starred Ghoul streamed on Netflix was an instant hit since the first episode. The story is inspired by dystopian tales and captures the nerves of the audience.
The story revolves around Nida Rahim, a young interrogator at a military detention center. Upon observing an eerie behavior of sect leader Ali Saeed,a new prisoner at the centerNida decides to search for the truth. The tables are turned as Saeed during the interrogation reveals the most shameful secrets of Nida and her fellow interrogators.As her quest turns into a battle for survival Nidaultimately finds out about a ghoul inhabiting Saeed and learns the alarming truth about its presence.
The Hindi horror web series so far have received huge complements. Horror buffs even claimed the miniseries to be one of the scariest.
Looking for less creepy thrillers to enjoy with the family? Breathe streamed on Prime and Viu originals Kaushiki and Memories are some of the best series you shouldn't miss.